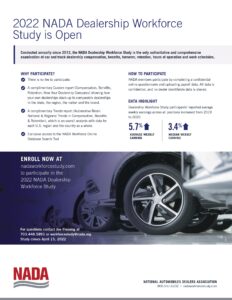 The 2022 NADA Dealership Workforce Study is open until April 15, 2022.
This survey, conducted by NADA, is separate and distinct from NJ CAR's Economic Impact Survey (which is currently ongoing) or the Coalition's annual Health Benefits Survey (which will be distributed later this month).
NJ CAR encourages all dealers to participate because your participation provides NADA with valuable data to report on the current trends in employee compensation, benefits, demographics, retention and more.
How to Participate
Enroll at www.nadaworkforcestudy.com. You will need your Store or Group NADA Member ID. If you do not have this number, please call 800.557.6232 and request your ID.
Complete a confidential online questionnaire and upload payroll data (no personal or dealer identifiable data is reported)
Why Should Dealers Participate?
All participating dealerships receive:
A complimentary Custom report, showing how your dealership compares to others in the State, region, nationally and by brand.
A complimentary Trends report, with data for each U.S. region, as well as the whole country.
Access to the NADA Workforce Online Database Search Tool.