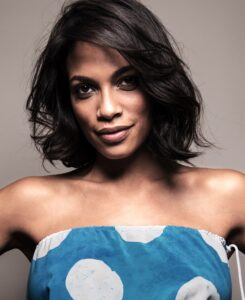 More than 200 franchised New Jersey new car and truck dealerships have participated in a variety of New Jersey Auto Retailers Unite fundraising campaigns since 2014 in support of The Valerie Fund. The industry's generosity, with more than $2,250,000 raised since 2014, has made an extraordinary impact on the lives of more than 6,000 brave children with cancer, sickle cell disease and other blood disorders treated by The Valerie Fund each year.
The 2021 New Jersey Auto Retailers Unite Campaign has set an ambitious goal of raising $500,000. Already, nearly 80 dealers have contributed more than $275,000, even before the two-month campaign official launches on September 1, 2021.
We are also excited to announce that Rosario Dawson has joined the campaign as the celebrity spokesperson and will be featured in a public service announcement expected to be launched in mid-September.  Known for roles in projects such as The Mandalorian, Top Five, Rent and Sin City, as well as the upcoming Hulu limited series Dopesick and the much-anticipated Disney+ series, Ahsoka, she is also a well-respected activist, designer, businesswoman and community volunteer.
The September 1, 2021 campaign launch date coincides with the month's national recognition of Pediatric Cancer Awareness and Sickle Cell Awareness. This year's campaign will focus on educating the public about Sickle Cell Disease, in particular.
"New Jersey's 500+ franchised neighborhood new car and truck dealerships are the backbone of their communities and support local organizations in hundreds of different ways," said Jim Appleton, President of the New Jersey Coalition of Automotive Retailers. "These entrepreneurs compete for customers every day, but they can also unite behind a worthwhile cause."
"New Jersey's dealerships are coming together, across all brands, to pay it forward and support the thousands of brave children treated by The Valerie Fund each year, as well as their families," said Judith Schumacher- Tilton, NJ CAR Chairwoman and owner of the Schumacher Auto Group. "It is especially important to support the hundreds of children with Sickle Cell Disease treated at Valerie Fund Centers. This is a disease, without a cure, that effects an underserved population."
For more information about the New Jersey Auto Retailers Unite campaign, please contact Brian Hughes, NJ CAR Director of Communications, at bhughes@njcar.org.
More Than $275,000 Raised SO FAR!
We are already 55% of the way to our goal!
If you haven't already done so, all you have to do is fill out a Donation Commitment Form and return it to The Valerie Fund. Your dealership(s) name(s) will be added to the growing list of participating dealers as soon as your contribution has been received by The Valerie Fund.
Dealerships who commit to the contribution contained in the fundraising letter they recently received will be able to take advantage of a wide variety of value-added benefits including:
Recognition of dealership(s) on both NJ CAR and Valerie Fund websites
Rights to share an NJ CAR-produced PSA
Graphics you can utilize on Facebook, Twitter, Instagram & LinkedIn
Collateral materials (posters, counter cards, window clings) for each location.
Right to use Valerie Fund & New Jersey Auto Retailers Unite logos
Press release, print/television/radio ad & billboard templates
Campaign-wide stories on NJ CAR and Valerie Fund websites
Campaign-wide radio (WCBS 880, WFAN), television (CBS, Verizon FIOS, Comcast), Billboard (CBS Outdoor, Interstate Media) and Press Releases