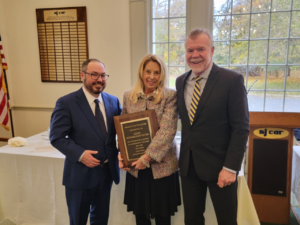 Judith Schumacher-Tilton, President of Schumacher Chevrolet Auto Group, was recognized for her chairwomanship of the New Jersey Coalition of Automotive Retailers (NJ CAR) for the 2020-2021 Coalition year. Judy made history as the first Chairwoman in NJ CAR's 102-year history.
Ms. Schumacher-Tilton got her start in the auto retailing business unexpectedly in 1999 after her father passed away and her brother became gravely ill. She now operates six New Jersey franchises- five Chevrolet dealerships in Little Falls, Denville, Clifton, Livingston and Boonton, as well as a Buick dealership in Boonton.
Among her many other accomplishments, Ms. Schumacher-Tilton was nominated by her dealer colleagues as New Jersey's 2012 TIME Dealer of the Year and was ultimately named one of only four finalists for the national title. She was also honored by New Jersey Monthly as one of the 2013 Top Female Entrepreneurs and the New York Business Journal as a recipient of the 2015 Women of Influence award. Ms. Schumacher-Tilton has also been named one of the "Best 50 Women in Business" by NJ BIZ, and has received the Distinguished Women Award from Northwood University, as well as a Philanthropic Leadership award from Montclair State University.
Please join NJ CAR in thanking Judy for her commitment to New Jersey's franchised auto retailers.