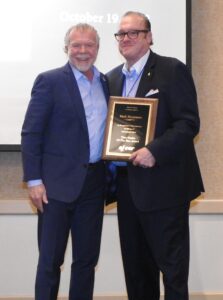 Mark Montenero, President of Autoland Toyota Chrysler Jeep Dodge Ram, was recently selected as New Jersey's 2023 TIME Dealer of the Year (TDOY) Award winner. The TDOY Award recognizes new vehicle dealers in the United States for their exceptional industry accomplishments, as well as their commitment to community service. Mark will represent New Jersey in the national competition, which takes place at the National Automobile Dealers Association (NADA) Show in Dallas, Texas from January 26-29, 2022.
Mark began his automotive retail career in 1981 as a salesman at Cameron and Gaffney Ford in Freehold. He quickly rose to Sales Manager and then accelerated into the position of Finance Manager. He continued his career growth at Hyer Ford in Shrewsbury, where he served as General Sales Manager and was eventually promoted to General Manager. After much hard work, Mark was granted the opportunity to purchase a Toyota Dealership in Washington, North Carolina in 1990 and, at the age of 27, became the youngest Toyota Dealer in the country.
Growing and managing Washington Toyota for a decade, Mark eventually returned to New Jersey to serve as Director of Operations for World Auto Group, managing 12 dealerships and over 1500 associates. He eventually took the reins at Autoland Toyota Chrysler Jeep Dodge Ram, where he has been for the past 15 years, starting in 2007 as General Manager and now as President.
Over the years, Mark has focused on building long-term relationships between associates, customers, and the community through a bond of trust, integrity, and respect for one another. He has also dedicated himself to ensuring Autoland's staff reflects the diverse communities they serve and is proud of the culture of inclusiveness he has instilled in the organization.
Autoland, under Mark's leadership, supports a long list of charitable endeavors.  Mark serves as Co-Chair of the Transforming Lives 2.0 Capital Campaign Committee with Children's Specialized Hospital of Mountainside, and RWJB/Community Medical Center. Funds raised by the campaign will play a vital role in the expansion of hospitals' services to communities where children currently can't access the specialized care they need. Dollars raised will also support crucial research at CSH in the fields of autism, brain injury, chronic health conditions, cognition, and mobility. In addition to his work with Children's Specialized Hospital, the dealership also supports local school systems, sports teams, PBAs, fire departments, first responders, nurses and much more.
Mark is a Regional Vice President of the Board of Trustees for NJ CAR and also sits on the Board of Trustees for the Greater NY Toyota Dealer Association, serves as Chairman of the NY Regional Dealer Council, and is Vice-Chairman of the Toyota National Dealer Council.
Join NJ CAR in wishing Mark the best of luck in Dallas this coming January.