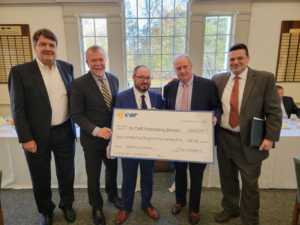 With the help of the Zero Injury Protection Program (ZIP), dealers participating in the NJ CAR Workers' Compensation program recently received dividend returns totaling over $800,000! NJ CAR congratulates and thanks all participating members for their continued commitment to employee safety.
The NJ CAR Workers' Compensation Zero Injury Protection (ZIP) program provides members with several benefits, including:
ZIP increases productivity, protects profitability, reduces premium and reduces employee injuries.
ZIP assists members in cutting employee injuries by as much as 50%.  Before ZIP, the overall program loss ratio was 80%, compared to the current loss ratio of 40%.
ZIP is 100% free. NO HIDDEN COSTS, NO GIMMICKS, NO CONTRACTS, NO MONTHLY SUBSCRIPTIONS, NO ANNUAL FEES. There are ZERO additional costs for participation.
The NJ CAR Workers' Compensation program also provides members with several cost-saving features not offered by other workers' comp providers including:
Scheduled upfront credits– Generous and upfront scheduled credits based on your dealership's individual loss experience. Maximum savings available 25%.
Employee Classification– Proprietary employee classifications reduce annual premium by an additional 15%-20% when compared to other carriers.
Individual Dividend– Dealerships are eligible for a sliding scale dividend based on individual, not group loss experience, with a generous and achievable maximum return of 25%!
Dividends are paid in the form of a check back to your dealership and not applied as a credit to your renewal premium.
PAYO- Pay as you owe– Annual premium is paid on reported payroll not estimated. Done through your payroll company, the PAYO feature simplifies audits, saving time and frustration.
For more information on the NJ CAR WC program contact Charles Russo at 609.403.7583 or contact Arthur J. Gallagher & Co. directly. Greg Moore, Area Senior Vice President, can be reached at 973.921.8334  and Pattie Collins, Area Senior Vice President, can be reached at 732.837.9150.