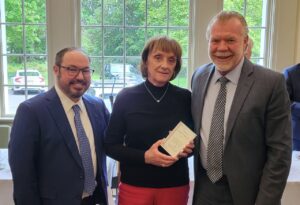 Two NJ CAR staff members were honored at the Coalition's May 18, 2022 Board of Trustees Meeting for milestone anniversaries supporting NJ CAR and its dealer members.
Judi McGinley, NJ CAR Executive Vice President, was recognized for 35 years of service to NJ CAR and New Jersey's dealers. Judi came to the Coalition as an insurance professional but quickly distinguished herself as a no-nonsense take the bull by the horns employee who could be relied upon to do literally anything that needed to be done.
When NJCAR was granted the contract to run our motor vehicle operation, Judi jumped in, figured it out, and worked day and night until we got it right. She is an indispensable team member who takes initiative and follows through to make certain things get done and the whole team stays on track.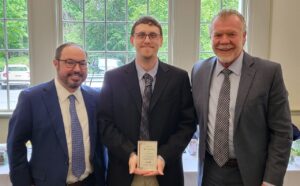 John Libby, NJ CAR Customer Services Representative, was also recognized for 15 years of service to NJ CAR. John is a valued member of the Coalition who always goes out of his way to help out in any way he can, like saving the day when a technology issue arises, or working extra hours when a colleague is out. He gets the work done with a great sense of humor and a sharp wit that helps keep things light, even when we're under pressure.
Please join the NJ CAR leadership and staff in congratulating Judi and John on their milestone anniversaries and their dedicated service to NJ CAR and its dealer members.