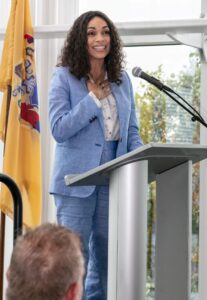 NJ CAR's 103rd Annual Meeting was held on Tuesday, October 12, 2021 at Liberty National Golf Club in Jersey City.
NJ CAR's Outgoing Chairwoman Judith Schumacher-Tilton, Incoming Chairman Michael DiFeo and President Jim Appleton spoke to members about issues the industry and NJ CAR have faced over the past year and anticipated issues the industry will face in the coming year. We also had a special presentation by actress Rosario Dawson, our celebrity spokesperson for the New Jersey Auto Retailers Unite Campaign to support the thousands of children with cancer and blood disorders treated by The Valerie Fund.
Attendees also recognized Rob Sickel, NJ CAR's 2022 TIME Dealer of the Year Award winner.
Copies of both Judy Schumacher-Tilton's Outgoing Chairwoman Message and Michael DiFeo's Incoming Chairman Message are included as attachments below.
This year's Annual Meeting generously sponsored by many NJ CAR business partners and others who support the Coalition and its members. NJ CAR would like to thank the following companies, who participated as Sponsors of this year's Annual Meeting, and encourages members to also extend their appreciation for the support sponsors have given:
Aboyoun Dobbs LLC
ACV Auctions
Ally Dealer Products
American Fidelity
AmTrust North America
Arent Fox
Auto Trieve
Bass Sox Mercer
Citrin Cooperman
CVR
Cox Automotive
Dealer Safeguard Solutions
Donnelly Construction
Gallagher
Genova Burns
HUB International
M&T Bank
Manheim New Jersey
NJ CAR Services
REDCOM Design & Construction
Schiller, Pittenger & Galvin, P.C.
Sprague Operating Resources
Valley National Bank
Vanguard Dealer Services
Wealth Preservation Solutions
Wholesale Auto Supply CO (WASCO)
Wilentz Goldman & Spitzer, P.A.
Withum Smith + Brown, P.C.
Zurich
Outgoing Chairwoman's Message- Judith Schumacher-Tilton