NJ CAR's 104th Annual Meeting was held on Wednesday, October 19th at the Seaview Hotel, with the Golf Outing following on Thursday, October 20th at Galloway National Golf ClubTuesday, October 12, 2021 at Liberty National Golf Club in Jersey City.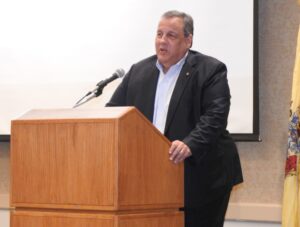 NJ CAR's Outgoing Chairman Michael DiFeo and President Jim Appleton spoke to members about issues the industry and NJ CAR have faced over the past year and anticipated issues the industry will face in the coming year. Former Governor Chris Christie served as our Keynote Speaker and provided his insight into by State and national politics.
Attendees also recognized Mark Montenero, NJ CAR's 2023 TIME Dealer of the Year Award winner.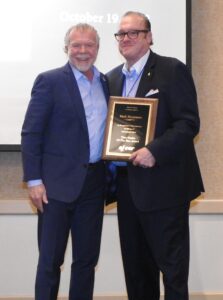 NJ CAR President Jim Appleton took time to also recognize Fran Nalbone, who has worked for NJ CAR for an incredible 50 years. Fran was presented with a Resolution from the New Jersey Legislature recognizing her half-century with the Association.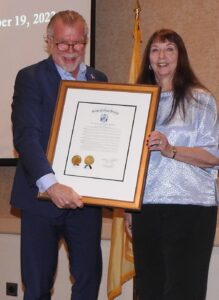 The 2022 Annual Meeting also featured two very informative and timely breakout sessions. The first featured Kaye Lynch-Sparks, Associate Director of Legal & Regulatory Affairs at NADA who discussed the FTC's proposed Motor Vehicle Dealer Trade Regulation Rule, which would be a game-changer for the industry if it were adopted as proposed.
The second breakout session will featured a roundtable of leading franchise attorneys including Joe Aboyoun, of Aboyoun & Dobbs; Kathy Barnett-Einhorn from Genova Burns; Mike McMahan from Arent Fox; Ted Schiller of Schiller and Pittenger; and Rich Sox of Bass Sox and Mercer.  The panel discussed a variety of challenges facing dealers as OEM's try to remake the dealer-factory relationship under the guise of electrification.

This year's Annual Meeting was generously sponsored by many NJ CAR business partners and others who support the Coalition and its members. NJ CAR would like to thank the following companies, who participated as Sponsors of this year's Annual Meeting and Golf Outing, and encourages members to also extend their appreciation for the support sponsors have given:
Aboyoun Dobbs
ACV Auctions
Ally Dealer Products
American Fidelity
AmTrust North America
Arent Fox Schiff
Auto Trieve
Bass Sox Mercer
Citrin Cooperman
CVR
Cox Automotive
Dealer Safeguard Solutions
Donnelly Construction
Donnelly Electric
Gallagher
Genova Burns
HUB International
M&T Bank
Manheim New Jersey
NJ CAR Services
REDCOM Design & Construction
Schiller Pittenger & Galvin
Sprague Operating Resources
Valley National Bank
Vanguard Dealer Services
Wealth Preservation Solutions
Wholesale Auto Supply CO (WASCO)
Withum Smith + Brown, P.C.