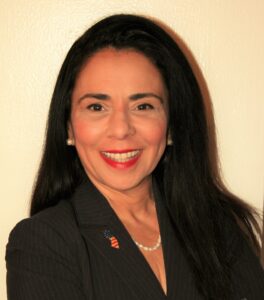 The New Jersey Coalition of Automotive Retailers (NJ CAR) is pleased to announce Magdalena Padilla has joined the organization as Director of Government Affairs.  Ms. Padilla is an attorney and advocate with diverse government and regulatory expertise in emergency management, compliance, environmental, transportation, business development, insurance, and consumer protection issues.
Prior to joining NJ CAR, she has served as Bureau Chief for the Federal Emergency Management Agency (FEMA) Region 3, Chief of Staff in the New Jersey Department of Environmental Protection, Compliance Officer in NJ TRANSIT, Director of Business and Economic Policies in the New Jersey Commerce and Economic Growth Commission, Assistant Counsel in the Office of Counsel to the Governor of New Jersey, and Deputy Attorney General in the New Jersey Attorney General's Office, where she was responsible for enforcing the Insurance Fraud Protection Act and the Consumer Fraud Act.  A former president of the Insurance Council of New Jersey, Ms. Padilla helped the industry navigate the challenges of creating and maintaining a competitive automobile insurance market.
Ms. Padilla began her legal career as a criminal law clerk in Hudson County, New Jersey for the Honorable Patricia Costello, J.S.C. She earned her Bachelor's degree from Fordham University, from which she also received a commission as an Army officer upon graduating with honors from Fordham's Reserve Officers' Training Corps.  Ms. Padilla earned her Juris Doctorate from Rutgers Law School in Newark, New Jersey, Associates in Risk Management from The Institutes, and Certificate in Continuity Operations from the Emergency Management Institute.
In her new role at NJ CAR, Ms. Padilla will be responsible for monitoring and influencing legislative and regulatory matters that affect the State's $37 billion per year auto retail industry. She joins NJ CAR at a particularly important moment in time, as the auto retail sector is undergoing massive change in the way vehicles are sold and the type of vehicles sold in New Jersey. Consumer demand for more remote and online sales, post-COVID 19, has prompted dealers and state regulators to adapt to the new normal and New Jersey's clean car mandates mean dealers will be called upon to sell more and more electric vehicles in the months and years ahead.
Ms. Padilla can be reached at 609.883.5056, x345 or via email at mpadilla@njcar.org.