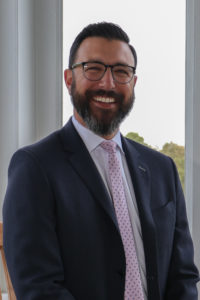 Trenton, N.J. (October 25 2021) – Robert Sickel, the third-generation Dealer Principal at the Pine Belt Organization, was recently selected as New Jersey's 2022 TIME Dealer of the Year (TDOY) Award winner. The TDOY Award recognizes new vehicle dealers in the United States for their exceptional industry accomplishments, as well as their commitment to community service. Rob will represent New Jersey in the national competition, which takes place at the National Automobile Dealers Association (NADA) Show in Las Vegas, Nevada from March 10-13, 2022.
Pine Belt was founded in 1937 by Rob's grandfather, Leon Sickel. In the early 1940's, he closed the dealership and enlisted in the Army to serve in World War II. When the war ended, he reopened and brought in Rob's father, David, who grew the company from one Chevrolet rooftop to include a Subaru, Fiat Chrysler, Cadillac and two Nissan stores.
Rob, exposed to the automotive business his entire life, worked at a large Florida dealership group while earning his degree in Business Administration from the University of Miami. He made his way back to New Jersey and began learning the intricacies of running a dealership from his father, himself a former TIME Dealer of the Year Award winner. After working in virtually all dealership departments, Rob started Pine Belt's first BDC department and, ultimately, ran the Subaru store. He left the business for a brief time to create and run a successful clothing company and branch out into several other businesses, including a three-branch community bank, a full-service sign company, an insurance agency and a restaurant franchise. This opportunity to exercise his entrepreneurial spirit outside of the auto industry gave him valuable insight into how a dealership can better serve its employees and customers. This served him well when he formally took over operations at Pine Belt on a full-time basis in 2013.
"Auto retailing is in Rob's blood," said Jim Appleton, President of the New Jersey Coalition of Automotive Retailers (NJ CAR). "He believes that Pine Belt's long-term success is a result of creating a satisfying work environment for their dedicated employees, many of whom have been with the company for decades. His success in business, as well as his dedication to the community makes him an incredible representative for New Jersey at the national competition."
Rob has been involved with Monmouth Medical Center for nearly a decade, serving as Chairman of the South Campus Foundation since 2013, a Board of Trustee member since 2017, as well as Chair of the Medical Policy Subcommittee, Chair of the Community Action Committee, and a member of the Human Resources Committee. Once the COVID-19 vaccinations became available, he spearheaded a Minority Vaccination Program focused on providing education and access to vaccinations to Monmouth's underserved minority community. The "boots on the ground" approach paid off, with vaccination rates among the minority community growing from 2% in February 2021 to 40% just four months later.
In addition to his extensive involvement with Monmouth Medical Center, Rob and the Pine Belt organization support a wide variety of organizations that serve the health, educational, social and recovery needs of Lakewood, Brick, Point Pleasant Boro, Point Pleasant Beach and Toms River.
Rob joined the NJ CAR Board of Trustees in 2011, moving to the Executive Committee as a Regional Vice President (Central Region) in 2015 and serving as Chairman in 2019-2020. He was also a founding member of the NJ CAR NextGen Committee. Rob was recognized as Man of the Year by the Point Pleasant Elks in 2013, was named to the Automotive News "40 Under 40" list in 2016 and received a Community Service Award by the Monmouth/ Ocean Development Council (MODC).
About The TIME Dealer of the Year Award
Nominations for the New Jersey TIME Dealer of the Year are submitted by NJ CAR members, and a winner is chosen by the NJ CAR Awards Nominating Committee, made up of the sitting NJ CAR Chairman and all past winners of this prestigious honor. A panel composed of faculty from the Tauber Institute for Global Operations at the University of Michigan chooses TIME Dealer of the Year finalists from each of the four NADA regions. From those four finalists, the judges then select the national winner, who will be named the 2022 TIME Dealer of the Year.
The winners are chosen using a variety of criteria including service to their community, civic, political and educational activities, customer satisfaction, personnel competence, training, attitude and record of service, financial status, ethics, new-car sales record, used-car sales record, service sales record, share of market, physical facilities and dealer association participation.