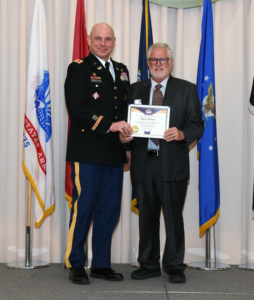 Wayne Hileman, President and Chief Operating Officer of Burlington Automotive was recently named Honorary Commander of Army Support Activity Dix at Joint Base McGuire-Dix-Lakehurst. According to Col. Wes Adams, Commander of Joint Base McGuire-Dix-Lakehurst, the Honorary Commander must be an individual with "outstanding character, integrity and patriotism" and is a local leader that can serve as a voice to spread information about the base and its mission.
"Members of the military service have put their lives on the line to protect the freedoms that we enjoy and I am truly honored to be named an Honorary Commander," said Wayne.
Wayne is President and Chief Operating Partner of Burlington Chevrolet, Burlington Volkswagen, Burlington KIA, Turnersville KIA, Allentown KIA, Raceway KIA, Egg Harbor Sport Hyundai and Majestic Automotive. He is a past Chairman of NJ CAR, as well as former President of the South Jersey Automobile Dealership Association. Wayne has held leadership roles in the Kia Dealer Council, as well as the the Burlington County Workforce Development Board and supports numerous local charities including the Burlington Military Action Committee, Burlington City High School, Burlington City Police K-9, Moorestown Education Foundation, in addition to creating an annual scholarship for automotive technology students at Burlington County Institute of Technology.
[Pictured, L-R, are Col Jon Brierton, Commander of Army Support Activity Dix and Wayne Hileman, President and COO of Burlington Automotive.]